Model NO.: 50-5000L

Water Pot: Oil Pot

Trademark: Li&Li

Specification: GMP ISO9001

Origin: Guangzhou/Guangdong

HS Code: 8479820090

2016 hot sale stainless steel mixer Vacuum Emulsifying Mixer RHJ-U vacuum eumulsifying mixer

Suitable: Cream, paste, foundation, ointment, lotion, gel, conditioner, milk, sauce, etc

Capacity: 5~5000L

Contact part: SUS304/316L (three jackets, contact material parts adopt SUS316L, the other two layers adopt SUS304)

Homogenizer speed: 0~3600rpm

Scraper speed: 0~80rpm

Lifting: Hydraulic lifting system

Heating: By steam/electrically

Operation: Automatically (PLC)/manually

Main Composition

The vacuum emulsifying mixture is mainly composed of water pot, oil pot, emulsify pot, vacuum system, lifting system(optional), electric control system(PLC is optional), operation platform, ect. 

Usage and Application Field

The product is mainly applied in such industries as daily chemical care products, biopharmaceutical industry, food industry, paint and ink, nanometer materials, petrochemical industry, printing and dyeing auxiliaries, pulp& paper, pesticide fertilizer, plastic&rubber, electric and electronics, fine chemical industry, ect, the emulsifying effect is more prominent for materials of high base viscosity and high solid content. 

Performance &Â Features

The vacuum emulsifying produced by our company include many varities. The homogenizing systems include upper homogenization, lower homogenization, internal and external circulating homogenization. The mixing systems include single-way mixing, double-way mixing and helical ribbon mixing. The lifting systems includes single-cylinder lifting and double-cylinder lifting. Varies high quality products can be customized according to customer 's requirements. 

The triple mixing adopts the imported frequency converter for speed adjustment, which can meet different technological demands. 

The homogenization structure made through. German technology adopts the imported double-end mechanical seal effect. The maximum emulsifying rotation speed can reach 4200 rpm and the highest shearing fineness can reach 0.2-5um. 

The vacuum defoaming can make the materials meet the requirement of being aseptic. The vacuum material sucking is adopted, and especially for the power materials, vacuum sucking can avoid dust. 

The emulsifying pot lid can adopt lifting system, easy to clean and the cleaning effect is more obvious, the emulsifying pot can adopt tilt discharge. 

The pot body is welded by imported three-layer stainless steel plate. The tank body and the pipes adopt mirror polishing, which fully conforms to GMP requirements. 

According to technological requirements, the tank body can heat or cool the materials. The heating modes mainly include steam heating or electric heating to ensure the control of the whole machine is more stable, the electric appliances adopt imported configurations, so as to fully meet the internal standards. 

Technical Parameter 



Model


Capacity
(L)

Stir motor

Homogenizer

Total power

Outline
Dimensions
WxHxL

(Mpa)
Limit
Vacuum
KW
R/min
KW
R/min

Electric
Heating

Steam
Heating


RHJ-U5
5
0.18
0-63
0.37
0-3000
5
2


1260x540x1600/1850
-0.09
RHJ-U10
10
0.37
0-63
0.75
0-3000
6
3
1300x580x1600/950
-0.09
RHJ-U50
50
1.1
0-63
3-5.5
3000
18
9
2600x2250x1950/2700
-0.085
RHJ-U100
100
1.5
0-63
4-7.5
3000
32
13
2750x2380x2100/2950
-0.085
RHJ-U200
200
2.2
0-63
5.5-11
3000
45
15
2750x2750x2350/3350
-0.085
RHJ-U300
300
2.2
0-63
7.5-11
3000
49
18
2900x2850x2450/3500
-0.085
RHJ-U500
500
4
0-63
11
3000
63
24
3650x3300x2850/4000
-0.85
RHJ-U1000
1000
5.5
0-63
15
3000
90
30
4200x36503300/4800
-0.85
RHJ-U2000
2000
7.5
0-63
15
3000
-
40
4850x4300x3800/5400
-0.85
Our Services

1. We are a direct manufacturer and our priority is your complete satisfaction. 

2. Logo printing: We can print any logo as per your requires on the case. 

3. We take care of each order from start to finish. All emails will be answered in 1Â day

4. No matter what's your order quantity, we will offer the same attention to our quality and service

5. Delivery & lead time: All delivery methods are ok, and our lead time is quite short. Usually, our lead time around 7 days, depending on the quantity. 

6. Packages: Available for ploy bag and carton box

Our advantage

The lowest price in the same factory and service-oriented, an investment, a hundred years to benefit our company is strong in technology, reliable product quality, shelf, implementation of Three Guarantees, the agency checked, large-tonnage available to your factory processing our order! 

Our company

Guangzhou Li&Li Mechanical Equipment Co, . Ltd. Is professional corporation that mainly operates design, manufacture, installation and debugging of cosmetic, pharmaceutical, chemical, food, etc. Equipments. Enterprise strictly implements the ISO9001 standard management, with strong technical force, complete detection equipment, advanced process and complete product variety which including all kinds of Reaction Kettle, agitator bath,

Storage Tank

, vacuum emulsifying machine, conveyor, filling machine and non-standard equipments process and manufacture; Electrical engineering, automatic-control engineering, pipe design and equipment installation. 

Shell And Tube Heat Exchanger constructed from 304 and 316 Stainless Steel are corrosion resistant and can be built to meet various industrial, pharmaceutical, food, dairy, and beverage requirements. Other material and alloys including (Hastelloy, AL-6XN), titanium, copper-nickel alloys, copper, steel, carbon steel and brass are also available.

We offer a large array of Stainless Steel Heat Exchanger products for industrial, food & beverage, HVAC, marine, air processing & cooling, petrochemical, pharmaceutical, power generation and refrigeration industries. Our shell & tube and air cooled products are available pre-engineered as well as custom designed.

Pullylon is certified by ISO9001 and comply the ASME code in design and manufacturing, our products and manufacturing process are fully certified to the highest extent of industry standards. Our strengths lie in the high quality and fine craftsmanship of our products, the engineering expertise of our team, and our quest to continuously develop technologically new and exciting products.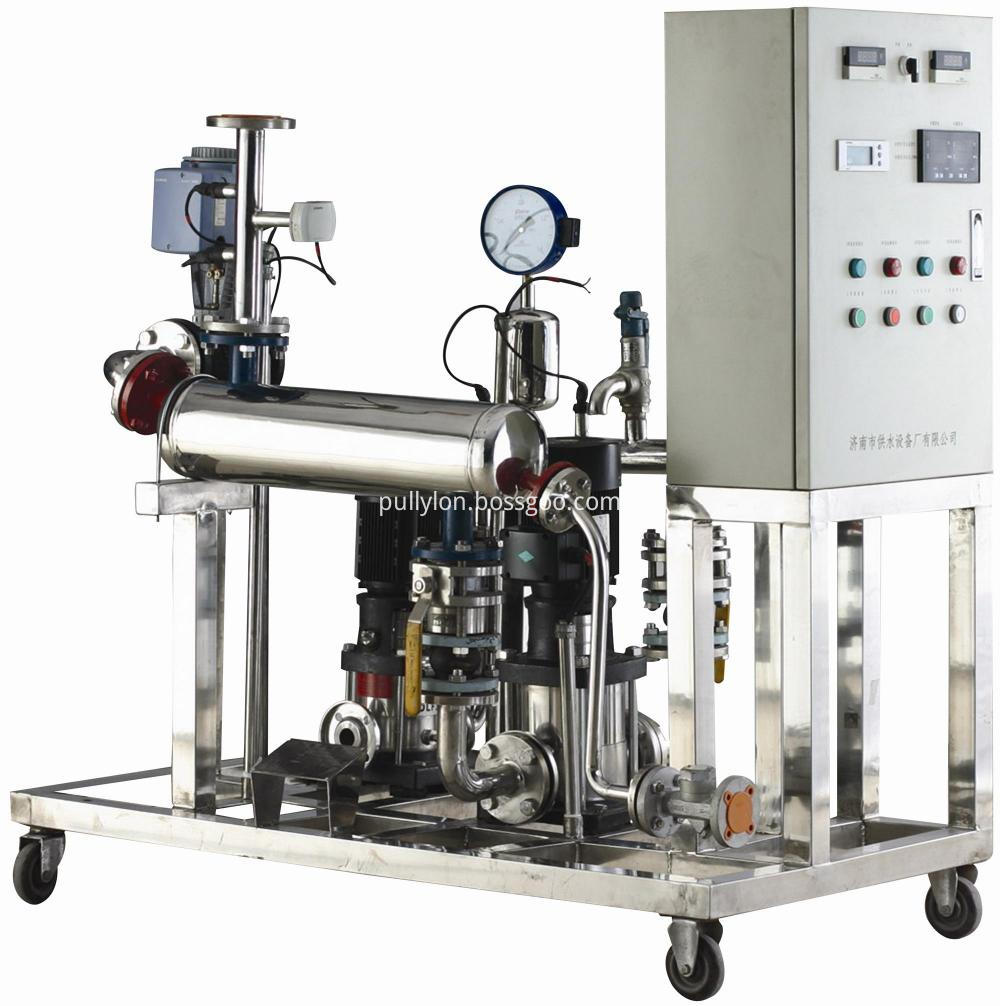 Stainless Steel Heat Exchanger

Stainless Steel Heat Exchanger,Heat Exchanger Calculation,Stainless Steel Coil Heat Exchanger,Stainless Steel Pipe Heat Exchanger

Shandong Pulilong Pressure Vessel Co.,Ltd , https://www.pullylon.com